Chile Peppers have never been my thing. I usually pass their section by at the grocery store except to occasionally buy a jalapeño or red Thai chile. That's as far as my chile experimenting has ever gone. This type of thing bothers me sometimes when I think I should branch out and try some new things. Since Cinco de Mayo or El Día de la Batalla de Puebla (The Day of the Battle of Puebla) as it is known in Mexico, is coming up in a couple days, I decided to be brave and try a new kind of chile.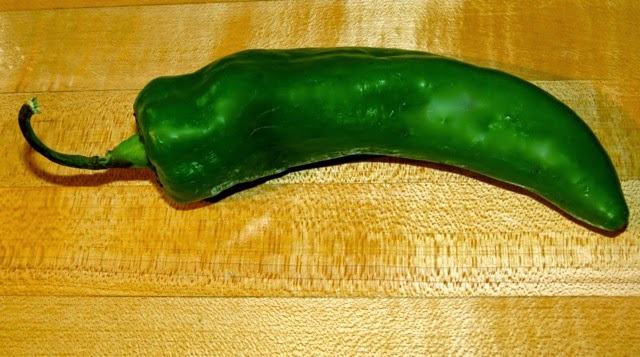 Anaheim Chile Pepper ©EverydayCookingAdventures 2014
Luckily for me the grocery store had little descriptions accompanying each of the baskets of brightly colored fruits, yes botanically they are considered fruits. Learned something new already! The long Anaheim chile is a mild one the sign told me so I figured this would be a good choice for a non-spicy fan.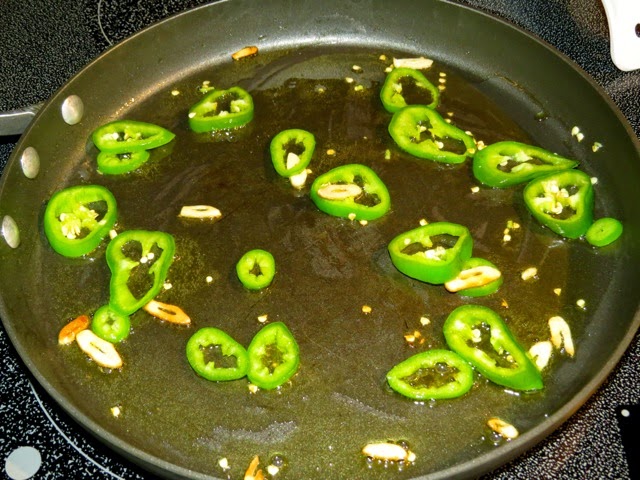 ©EverydayCookingAdventures 2014
Now, a little known fact about me. When I was in college I ate out at restaurants at least 1 meal a day. I enjoyed trying new restaurants to try all kinds of cuisines. Los Angeles is the perfect place to do this as restaurants are as common as street signs around there and every regional and cultural food type can be found. This exploration of food spurred what would become my passion in life…food and eating out! My favorite chefs to either watch on TV or read their books were +Mario Batali, +Jamie Oliver  and +Anthony Bourdain. They are awesome people and awesome chefs. This recipe is from one of the first cookbooks I bought for myself by Batali.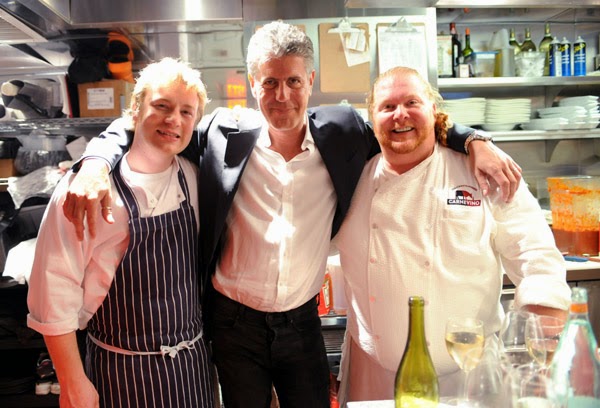 Best photo ever! Jamie Oliver, Anthony Bourdain and Mario Batali Photo Courtesy of Film.Com
And now that I have braved the world of chile peppers I can finally make this delicious dinner recipe. I used penne because I didn't have spaghetti but otherwise stuck to the recipe and it was delightfully sweet not spicy.  It was a great meal and next time I might add in a little feta cheese or toasted almonds to add even more texture. In a couple weeks, my mom and I will be fulfilling one of my dreams, to see Mario Batali in person! We scored tickets to +The Chew filmed in New York City. Life is good.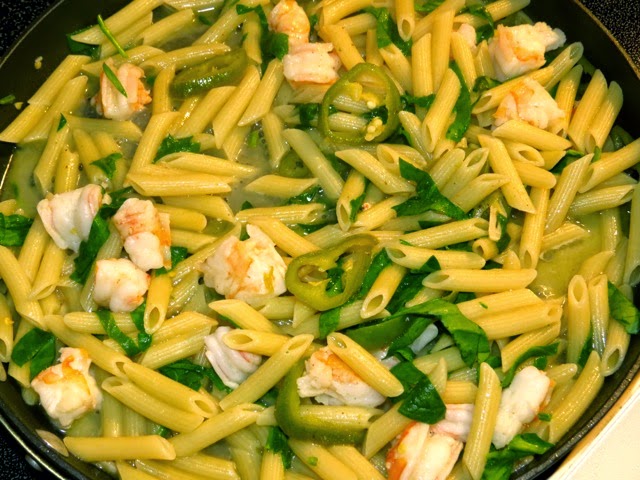 Penne with Shrimp, Anaheim Chile and Arugula ©EverydayCookingAdventures 2014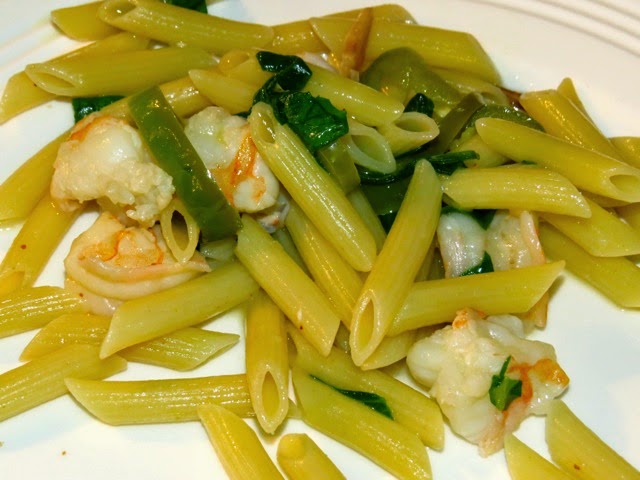 Penne with Shrimp, Anaheim Chile and Arugula ©EverydayCookingAdventures 2014
Spaghettini with Shrimp, Anaheim Chiles, and Arugula
Recipe from: Simple Italian Food: Recipes from My Two Villages, Mario Batali, 1998
Serves: 2 with leftovers
Ingredients
1 Tbsp. coarse salt, plus more for seasoning
2 garlic cloves, thinly sliced
2 Tbsp. extra-virgin olive oil
1 fresh Anaheim chile, cut into 1/4-inch rounds
1 cup dry white wine
1 Tbsp. unsalted butter
1/2 pound bay or small gulf shrimp, peeled and deveined
5 ounces spaghettini
1/2 bunch arugula, washed, spun dry, and chopped into ribbons (1 cup)
Directions
1. Bring 6 quarts of water to a boil and add the salt. In a 12-inch saute pan, saute the garlic in the olive oil over moderate heat until lightly brown, about 1 minute. Add the chiles and continue cooking about 30 seconds longer. Add the wine and butter and boil over high heat for 3 minutes. Add the shrimp stirring until just cooked, about 4 minutes. Season to taste with salt and remove from heat.
2. Add the spaghettini to the boiling water and cook according to package instructions, until tender but still al dente. Drain the pasta, leaving a bit of starchy water with the pasta rather than draining it completely.
3. Add the spaghettini to the saute pan with the shrimp. Place the saute pan back over medium heat. Stir gently until the spaghettini is coated with sauce, then toss in the arugula. Stir quickly to combine and arugula is just wilted, about 30 seconds. Check the seasoning and transfer the pasta to a large serving bowl. Serve immediately.