I spent time this evening around 6pm thumbing through my cookbooks to look for what to do with some plain boneless, skinless chicken breasts for dinner. Hungry and a bit tired, I wasn't looking for anything difficult or time-consuming, but it still had to sound tasty. I came across this recipe that took less than a half hour start to finish and virtually no prep time required. Perfect!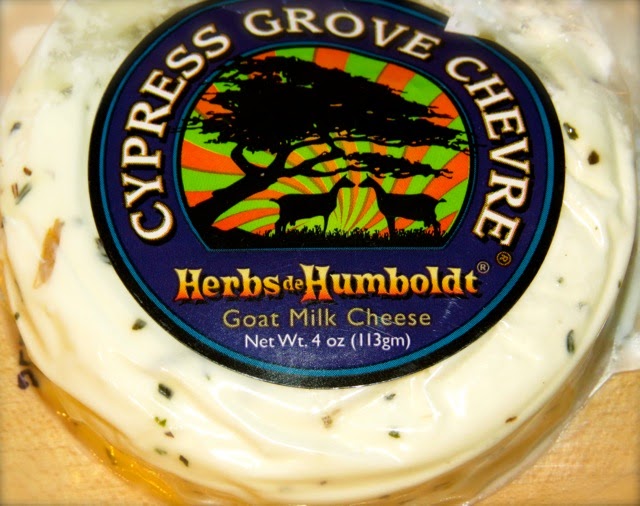 ©EverydayCookingAdventures 2014
It was just as easy as it sounds and the results were a fulfilling and pretty finished dish for dinner. The combination of savory goat cheese from +Cypress Grove Chèvre and zesty Italian parsley was delicious. I used pearl couscous instead of orzo because it's what I had in my cupboard. I didn't even bother to chop the parsley, just removed the stems and poof, done. What a perfect weeknight meal when you are starving but you don't want to settle for mediocre. Here's my chicken with goat cheese vinaigrette: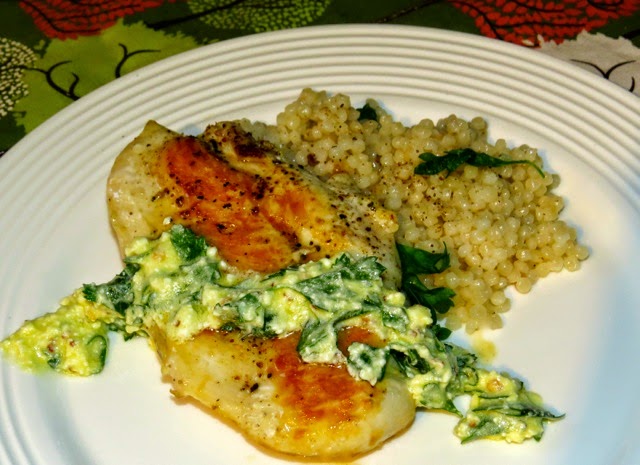 ©EverydayCookingAdventures 2014
Chicken With Goat Cheese Vinaigrette
Recipe from: Real Simple Magazine, August 2011
Serves: 2
Hands-On Time: 20 minutes
Total Time: 20 minutes
Ingredients
1/2 cup orzo or couscous
2 1/2 Tbsp. plus 1/2 Tbsp. olive oil
1/4 cup chopped fresh flat-leaf parsley
1/4  teaspoon  crushed red pepper
2  ounces  goat cheese, crumbled (1⁄2 cup)
4  6-ounce boneless, skinless chicken breasts, split horizontally
kosher salt and black pepper
Directions
1. Cook the orzo or couscous according to the package directions.
2. Meanwhile, in a small bowl, combine ⅓ cup of the olive oil, the parsley, and crushed red pepper; fold in the goat cheese.
3. Season the chicken with ½ teaspoon salt and ¼ teaspoon pepper. In a large skillet, heat the remaining tablespoon of oil over medium-high heat. Working in batches, cook the chicken until cooked through, 2 to 3 minutes per side. Serve with the orzo and goat cheese vinaigrette.
Tip: For a nice, relish-like sauce, be sure the goat cheese is cold when you toss it with the olive oil mixture.